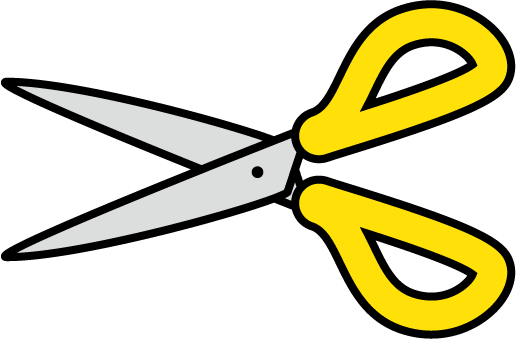 When your child become around 3 years old, why not start scissor training.
First time, it is well enough just to cut the paper in strait line according to the leading mark written by pencil.
Let's say "open" and "shut", "open" and "shut" continuously beside your children.
You must see carefully your child never cut his/her fingers.
Today I would like to share the free material site for the scissors practice and paper craft.


Sponsored Links

Waku-Waku Training Material Scissors Practice Worksheet Material
		


			
				
			
		


Straight Line, Triangle, Circle, Zigzag, there are various worksheet available. The colors and the monotones can be chosen.
Kidz Creative Labo scissors cutting for beginner
		


			
				
			
		


THe worksheet is provided as PDF file. It is very easy and suit for the first time training.
The room of scissors practice providence heart print for children
		


			
				
			
		


The colorful and unique drawings should catch your children's heart.
MAMA YONDE Let's play the cutting
		


			
				
			
		


PDF file available, you can download 7 papers at the corner called as 'Cut and Play'
Worksheet Material Palace for children Paper Play
		


			
				
			
		


This is unique and enjoyable worksheet, you can cut and paste them into the Kid'S favorite lunch box.
Pre-Printing Skills Practice
		


			
				
			
		


This site provide the materials which are divided with the difficulty for the 2 years and 4-5 years.
By the way, make sure to keep your watch carefully, if your children cut the worksheet.
There are safety scissors for kids available around the world. You must prepare the one of them.

In case your kids getting older, let's challenge next step like a paper craft!.
Yahoo!Kids Paper Craft
		


			
				
			
		


This site provide several category like creatures, vehicles, ... and so on. You must check it regularly since they pick up their recommendation often.
Paper Museum
		


			
				
			
		


More than 300 paper crafts are available. There is a popular ranking, you can find your favorite one.
Kids goo Paper Craft
		


			
				
			
		


Play, Present, Use, Decorate, ... Several category paper crafts are introduced.
Kirin Beverage Paper Craft
		


			
				
			
		


Kirin Beverage corporation provide the paper craft materials. The beginner mark is put on the easy one, those are really good for kids.
That's all today. There are so many paper craft material site exist. I would create the special article for that.
[Published:2014/7/19]
[Updated:]

Sponsored Links